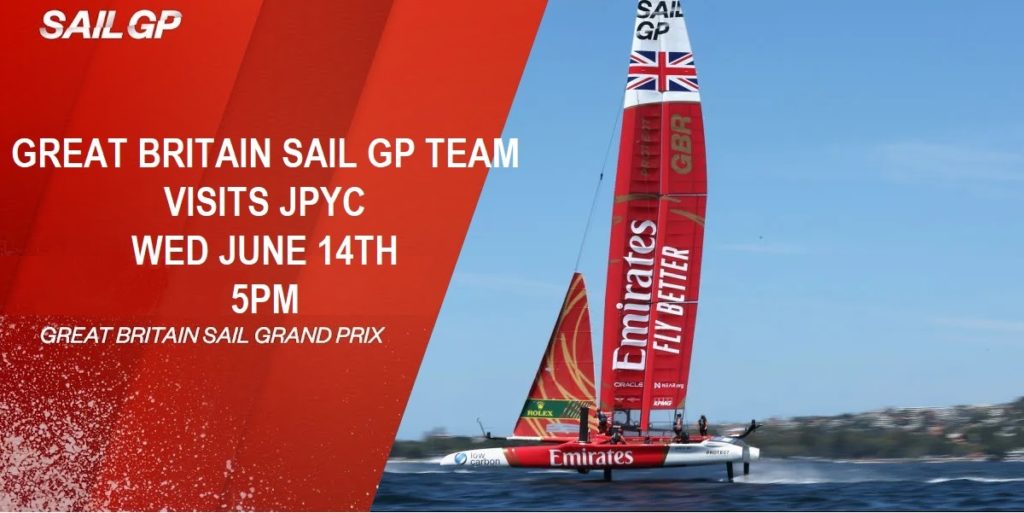 That's right SailGP's Great Britain Team is coming again to visit the JPYC Foundation on Wednesday June 14th at 5:30 pm. 
Driven by Ben Ainslie, the most successful Olympic sailor of all time, the Great Britain SailGP Team comprises of some of the country's top sporting talent with Olympic medals across multiple sports. As part of its partnership with SailGP, the JPYC Foundation has "adopted" this team during their stay in Chicago to compete in the SailGP Chicago Grand Prix on June 16 and 17.
Adopting the British team seemed only natural since our beloved Director of Youth Sailing, Johnny Mercer, was also British! Although Johnny's off sailing the high seas (we miss him terribly), he prepared us well to host the Great Britain team by already teaching us the funny phrases the Brits use!! Gidday chaps and all that!!
Please come by the club and join us in welcoming and getting to know the Great Britain team:
Great Britain Team arrives 5:30 pm
Welcome Remarks and Great Britain Team Presentation followed by Q&A from 5:30 to 6:00 pm
Food, Drinks and Mingling 6:00 pm to 7:00 pm. Dinner will be available for purchase from the Galley (cost approximately $15, depending on meal selected)
Let's make Johnny proud and show these Brits what he taught us by making them feel welcome in Chicago and cheering them on while they race on June 16 and 17 — the Great Britain team will be flying the JPYC Burgee/flag when they race!!
JPYC Beer Can Racers – you can meet the team before you head out for your race!!
Tickets to attend and meet the team are free, but you need to RSVP here!
To learn more about the SailGP Great Britain Team click here: https://sailgp.com/teams/great-britain/
To learn more about JPYC Foundation's youth sailing programs click here: http://www.jacksonparkyachtclub.org/jpycfoundation.html