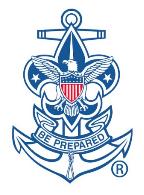 Sea Scouts is a specialized program of the Boy Scouts of America. It is organized to address a youth members' boating skills and promote knowledge of our maritime heritage.
Sea Scout units, called "ships," focus on sailing and cruising either sailboats, power vessels or paddle sports. During the boating season, Sea Scouts learn to maintain and operate vessels, with a focus on learning the safe and proper methods of handling boats. Sea Scouts also learn the meaning of buoys and lights, how to take advantage of wind and tide, and how to drop anchor or approach a dock.
Most ships hold formal meetings conducted in either full dress or work uniforms. Swimming, lifesaving, first aid, Coast Guard Auxiliary Sailing and Seamanship, and cardiopulmonary resuscitation courses are taught with the ship by their own youth officers or other adult mentors. The state safe boating course is also offered to their members by many ships. Occasionally movies are shown, regattas between crews are held, or inter-ship rendezvous are arranged.
JPYC has sponsored a Sea Scout for over 50 years. Through our Sea Scout Ship 5212 we use sailing as a tool to teach leadership skills to youth 14 -21.
For more information about JPYC's Sea Scouts, including how to join, please contact Chuck Lay at clay842@gmail.com.